Features
The Tendo Jobs recruitment platform is designed to make life as easy as possible for employers to recruit their next candidates. Unfilled job vacancies leads to slower growth within the company. Below are a selection of the tools and features available on Tendo Jobs within the different pricing plans.
Post your Job Vacancies
Free! That's right, it's completely free to post your job vacancies on www.tendojobs.com. Get your job vacancy in front of active job hunters to increase the number of applications you generate. Find the perfect candidate for you vacancy when you post your job for free.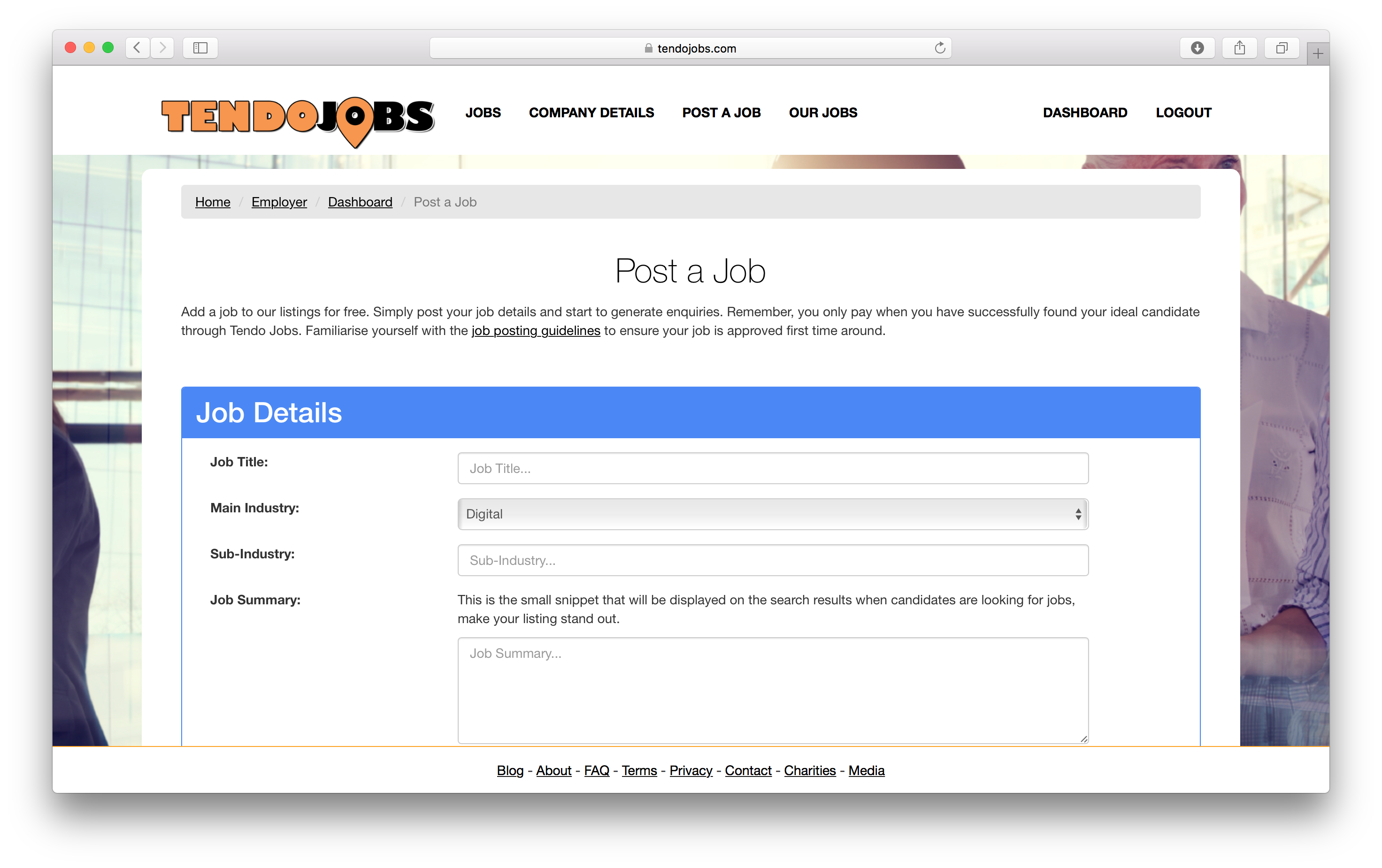 Review applicants
As job hunters apply for your vacancies, you can review the applications and contact details straight away with no kind of "Finder's Fees" that you may be used to paying. This allows you to see how well suited the job applicants are for your vacancy before inviting them to interview.
To make your life even easier as an employer, we run all applicants through our sophisticated ApplicantRank algorithm which will automatically rank high calibre candidates towards the top and filters out applicants who do not have the right skills, knowledge or experience for the job. No-one likes reading through hundreds of applications, which is why we aim to make your life as an employer as simple as possible.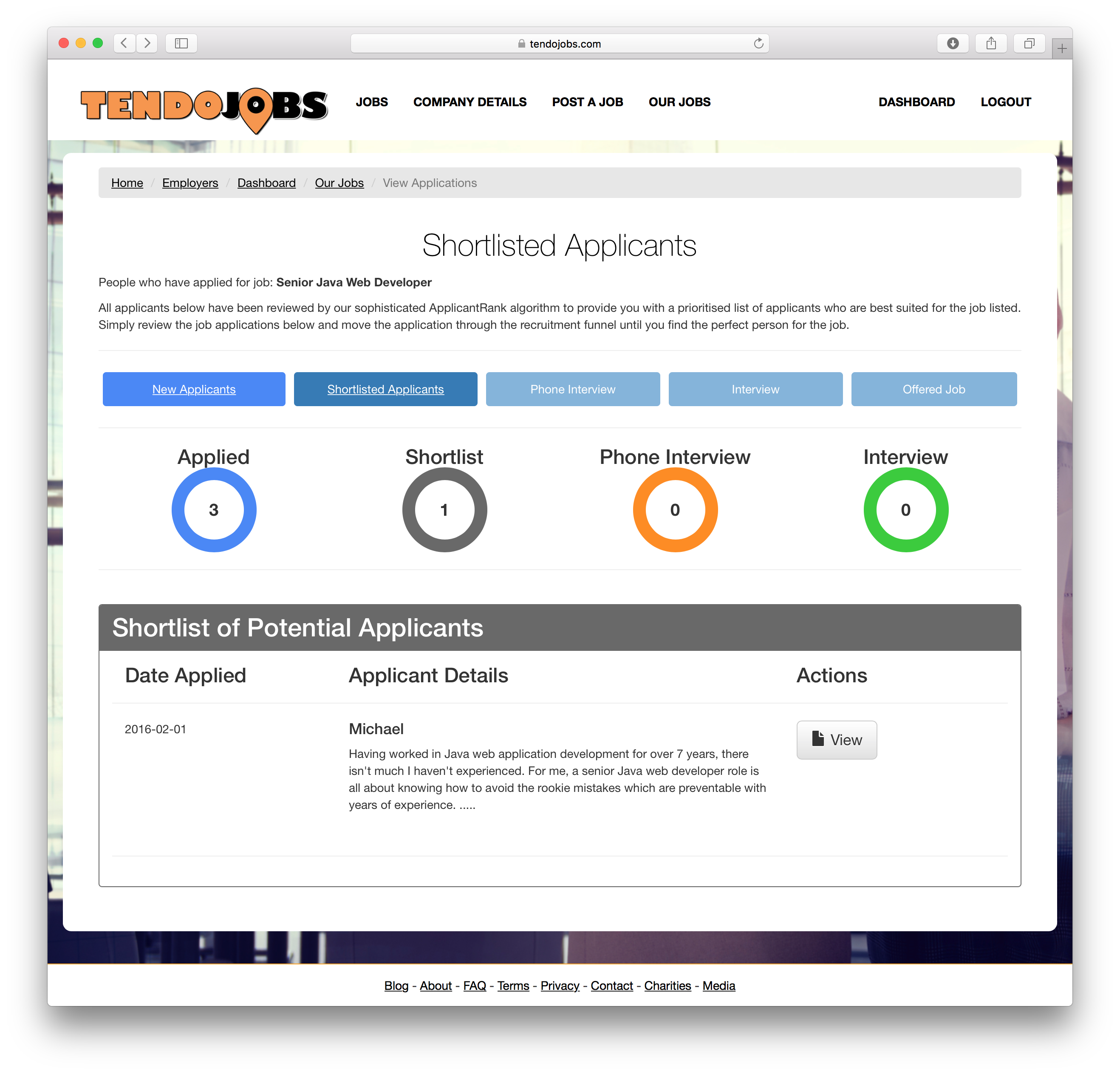 Invite Applicants to Interview
Within your Employer Dashboard you have access to a full applicant tracking system which is designed to allow you to manage your whole recruitment process through Tendo Jobs. This includes inviting candidates to phone interview, to an actual interview, offering candidates the job or letting candidates know why they haven't been successful.
The streamlined applicant tracking system allows you to easily keep track of how candidates are progressing through the recruitment funnel. With smart reporting technologies you can visualise this process with ease.

Branded Careers Page
When you subscribe to one of the paid plans on Tendo Jobs, you have a branded careers page created for you automatically which is viewable on the Tendo Jobs website. You can access your own branded careers page through your Employer Dashboard. As job hunters are browsing around Tendo Jobs looking through vacancies, your branded careers page is linked to from your job listings to encourage job hunters to review all of the jobs you have available and apply. Your branded careers page on Tendo Jobs is included in your paid subscription plan for you to use and promote as you wish and the page will be automatically updated to reflect your company description, current vacancies and company logo.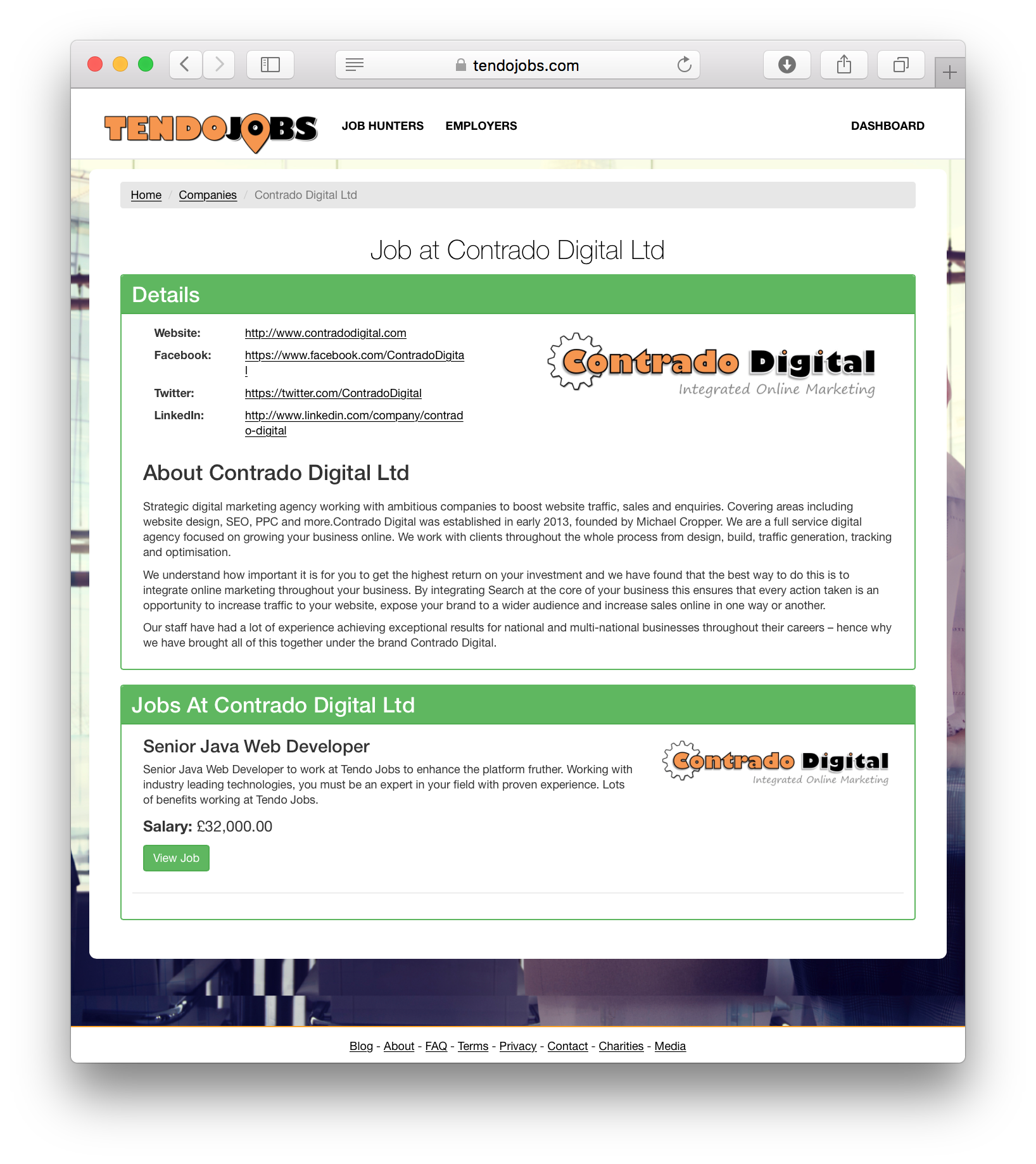 Embeddable Branded Careers Page Widgets
That's right, you can have your entire careers page on your own website powered completely by Tendo Jobs! No more time required asking IT to add another job vacancy to the website or to remove an outdated one or to tweak a bit of text. Simply embed the Tendo Jobs Branded Careers Page Widget into your own website with only 4 lines of code, a quick copy & paste job and you're good to go. Whether you want to embed your branded careers page on your website at https://jobs.your-website.com or at https://www.your-website.com/careers/ there are widgets to support this.
Worried about site speed? Don't be. We test our systems on a regular basis for performance through independent site speed testing tools and have found that the Tendo Jobs Branded Careers Page Widgets will load on your website in less than 200 milliseconds on average, i.e. less than 0.2 seconds which is faster than 99.9% of websites the independent tool has tested. Super fast and super slick.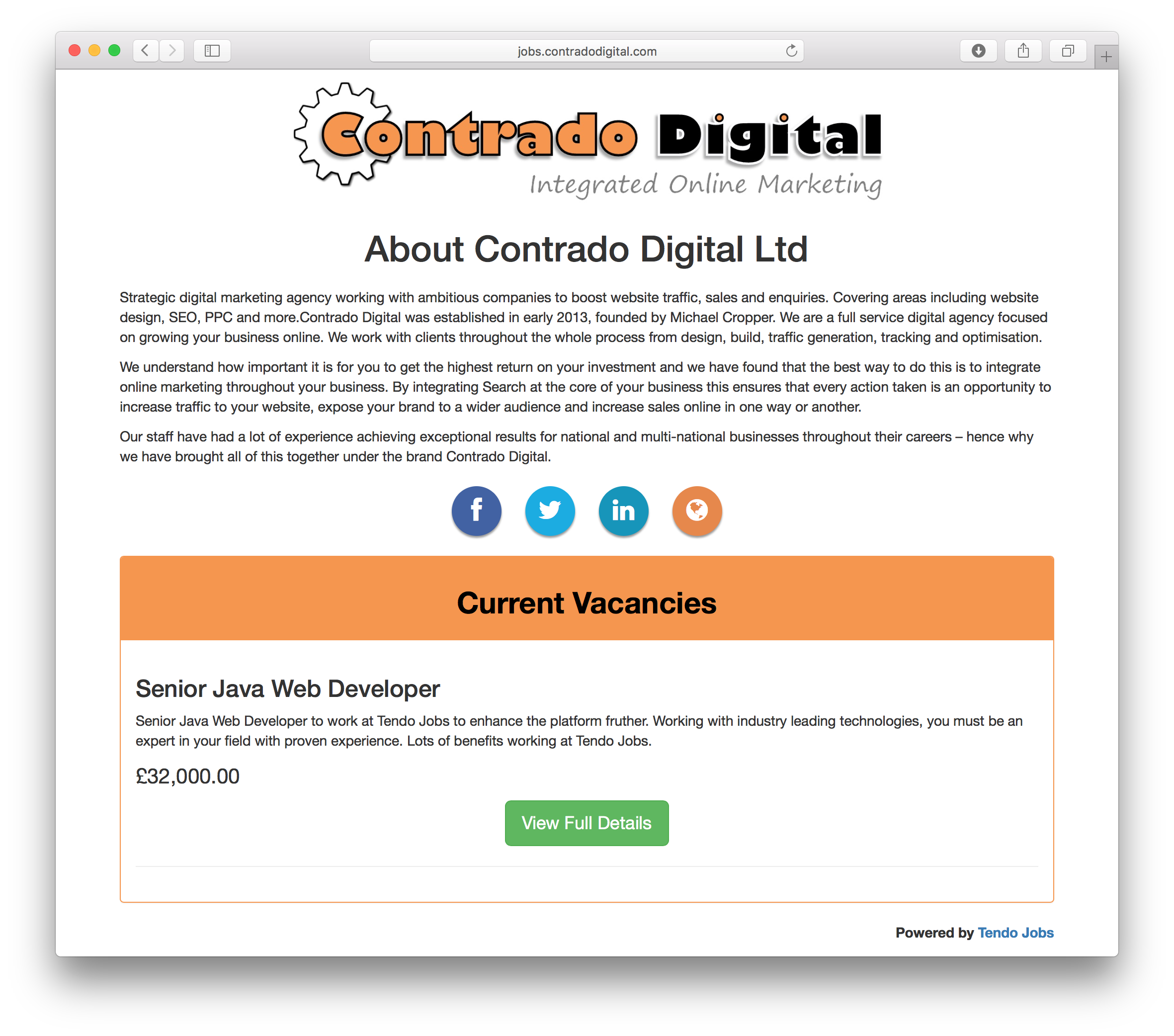 API Access
Want to take your Tendo Jobs platform to the next level and integrate this seamlessly with your own systems? Not a problem. For enterprise customers, get in touch to discuss your full requirements and find out how the Tendo Jobs API can integrate with your systems. Connect with our RESTful JSON API to pull and push data between the Tendo Jobs platform and your own systems. Full documentation and support is available along with your own technical lead at Tendo Jobs to support with your custom integrations.